Return to:
NPC
Behaviour: Stands in 1 place shooting to player.

Name: GALAK_MECH
Health: 1000

BUG: Model's skin is not avalible in JK3: Jedi Academy. The NPC will spawn with a stormtrooper skin!
Jedi Knight 2:Jedi Outcast model
Edit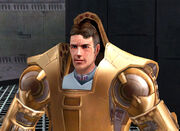 This is the original look of Galak_Mech from JK2:Jedi Outcast.
JK3:Jedi Academy game assets do not fully contain original JK2 assets.